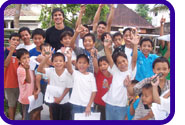 It's the help from our friends, like you, that makes Harmonikids possible. A heartfelt thank you to all.
For information on how you can become a Harmonikids sponsor, contact Gary Allegretto at (323) 605-8742 or e-mail info@harmonikids.org.
Hohner, Inc. is proud to announce the company's alliance with Harmonikids, a non-profit organization dedicated to bringing harmonicas & the joy of music into the lives of special needs children. Hohner, Inc. has partnered with Harmonikids founder, artist, educator and 2011 Keeping Blues Alive Award recipient Gary Allegretto, to provide harmonicas and musical instruction to children beset with a wide range of physical, emotional, and/or economic challenges. Harmonikids' seminars and events have introduced children throughout the world to the healing and restorative powers of music since 1985, utilizing the harmonica to create unique avenues for music therapy and education in environments ranging from children's hospitals to tsunami-ravaged North Sumatra. Each child participating in a Harmonikids event is gifted with his or her own Hohner harmonica and afforded the rare opportunity to receive musical instruction and inspiration from a professional musician and educator in a supportive and nurturing environment. Clay Edwards, President of Hohner, Inc. recently commented, "Hohner endeavors to be a part of everyone's musical life. If music provides an outlet for these children to express themselves and their condition, then by all means we have an obligation to support and foster it. Harmonikids is a first class organization with its heart in the right place and Gary Allegretto couldn't be better in relating to the children".
Click on the sponsor's logo to visit their official website.