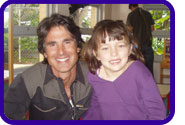 Harmonikids is a 501(c)3 non-profit organization dedicated to providing harmonicas & the joy of music to special needs children. The program gives harmonicas to children with a wide range of physical or emotional disadvantages and teaches them to play simple songs through easy instruction and gentle encouragement. Harmonikids' goal is to provide a fun, interactively educational, and entertaining diversion for kids who have tremendous emotional and physical challenges.
Children are irresistibly drawn to the harmonica. They immediately relate to its size, simplicity, portability and, most of all, it's deeply personal and warm sound. The instrument becomes and extension of their own voice and a wonderful means of creativity and self expression. Music provides a sense of achievement and self confidence - and it's fun. Music is a joyous and lasting gift, and the harmonica is a potential lifelong companion or friend.
The results of the Harmonikids program have been heartwarming and occasionally miraculous. Often these children are learning to cope with what they can no longer do and what they no longer have - whether it is physical, material, or emotional. Harmonikids focuses on teaching these children what they can do and what they do have in a fun and exciting manner. The capacity for courage, enthusiasm, and love the children have shown through Harmonikids is inspirational and extraordinary.